This page gives an overview of the Cornerstone co-operative ecosystem developed by Cornerstone Culture in consultation with Dave Hollings (Co-operative and Mutual Solutions Ltd), Chris Wormald (Chris Wormald Associates), Graeme Nuttall (Fieldfisher), Linda Barlow (Co-operatives UK), Robert Postlethwaite (Postlethwaite Solicitors), and Ed Savory (Birketts LLP).
The diagram below explains the relationships between the various stakeholder entities, including the unique co-op to co-op Cornerstone franchise agreement. At the centre of everything is Cornerstone Community, a multi-stakeholder Community Benefit Society (CBS), that brings together local producers, consumers and the people and community organisations serving local communities. The main objective of Cornerstone Community is to secure community assets such as pubs into common ownership in partnership with local benefit societies, to be operated by local community owned organisations. The ecosystem is the embodiment of mutual benefit and a way for local communities to challenge corporate domination of opportunities whilst building community wealth, resilience and sustainability.
If you are a community business wanting to join our buying group then you don't need to read this, just get in touch! The Sectors page gives more details of how it works in detail in different industries.
Glossary
Describing a legal framework inevitably uses a lot of technical terms, many of which have only been introduced in the last ten years. So here's a few definitions - the short versions with due apologies to our legal friends, as describing them fully would take up pages!
Co-operative - although normally used as a shorthand for a co-operative society, various types of organisation can be run for the benefit of their members, according to rules that must be approved by Co-operatives UK. The members can be anything from the residents of a building to workers in a factory or customers of a grocery store.
Multi-stakeholder Co-operative (or "Somerset Rules Co-op") - like normal co-operative organisations but with separate groups of members, for instance 50% controlled by employees, and 50% by consumers.
Co-operative society ("Co-op") - an organisation run for the benefit of members according to one-member-one-vote, and paying dividends to members according to their use of its services.
Community benefit society (CBS or "Bencom") - formerly known as an Industrial and Provident Society, a form of registered society with limited liability that carries on "a business, industry or trade...conducted for the benefit of the community". All profits must be used for the benefit of the community rather than members, but fixed interest can be paid on share capital. They are normally run by one-member-one-vote but can be controlled by a parent body as long as they run it for the benefit of the community. Assets must be used for the benefit of the community and they can apply for a statutory asset lock (see below).
Multi-stakeholder community benefit society - Combines the possibility of having multiple categories of membership such as users, consumers, supporters and producers with the ability of a standard CBS to raise capital by selling shares to the community.
Community interest company (CIC) - a limited liability company that can raise equity capital from shareholders, but they can receive no more than 35% of distributable reserves; the rest must be used for the benefit of the community. Assets have a non-statutory asset lock.
Limited Liability Partnership (LLP) - not a true partnership in the legal sense, but a hybrid corporate body with limited liability that is open to different classes of members like a multi-stakeholder co-operative. They are also capital partnerships, allowing investor members a revenue stream in proportion to their investment, which is not possible with traditional cooperative structures. Originally intended to protect the partners of accountancy firms from unlimited liability so the capital aspect was less important, but now being used for financing major assets where they are referred to as Open Capital Partnerships (OCP) to emphasise the investment aspect.
Asset lock - there are restrictions on what a CIC can do with its assets, if it needs to sell them, they must either be sold at full market value or to a community organisation with similar restrictions. CBSs can choose to apply a more restrictive Statutory Asset Lock under The Community Benefit Societies (Restriction on Use of Assets) Regulations 2006, after which their assets can only be transferred to another asset-locked organisation.
Employee Ownership Trust (EOT) - a special form of trust, established by a trust deed as a mechanism for employees to buy a business from its owner. The trustee is a company that buys a >50% share of the business leaving a debt to the original owner(s). The appropriate share of the profits is paid to the trust which uses them to pay off the debt until it is cleared and the trust owns its share of the business outright.
There are several tax advantages to EOT control - the trust can pay tax-free cash bonuses of up to £3,600 per employee per year, and sale to an EOT is free from capital gains, income and inheritance tax. EOT's were introduced to the UK following the government review of employee ownership led by Graeme Nuttall OBE in 2012, and Graeme has been instrumental in helping us to develop the employee-ownership aspects of the Cornerstone framework.
As you can see, all of these structures have their pros and cons. The Cornerstone model combines the best of the different structures, allowing funds to be raised through shareholders and giving them a return, whilst giving assets the permanent protection of a statutory asset lock. As far as we are aware, there is nothing like it in the UK.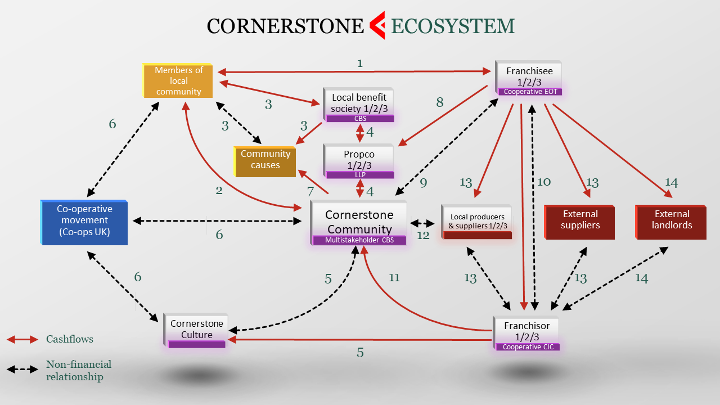 A larger version of this chart is available to download.
At the heart of the ecosystem is the relationship between members of the local community and the employee-owned franchisee (eg Weaver Valley Co-op) that operates a cluster of businesses in a local area (typically within 10-15 miles of each other). As customers, local people buy goods and services from the franchisee, as employees of the EOT they receive wages and trading bonuses. They also receive payments as the tradesmen that fix the plumbing, musicians that perform at pubs etc.
Local people can also subscribe to become members of Cornerstone Community, a multi-stakeholder CBS. The most visible part of this is a member rewards scheme that integrates with tills across the operating businesses, pounds spent earn points that can be redeemed for rewards/discounts/offers at all cooperating sites.
Members may also 'Pay Forward' £2 a month on subscription to receive a free drink at members get-togethers held weekly in all participating pubs. These subscriptions are ring-fenced by Cornerstone Community to invest in the purchase and development of community assets.
As Cornerstone Community is a multi-stakeholder CBS, social investors and members of local communities can purchase shares in it (paying 3-5% interest) to help fund purchase of and investment in community assets.
Within the wider area covered by the employee-owned franchisee, there are several neighbourhood CBSs connected to local assets such as pubs. The CBS can choose to raise capital to invest in return for a share of rent, which is split between paying interest to shareholders and providing benefits to the community, as decided by the CBS committee made up of local people.
Cornerstone Community invests central funds (from community share offers, profits from franchisors, grants and loans) into property LLPs formed with the local CBSs to finance the purchase of assets. The flexibility of the LLP structure means that any rent received is paid out in proportion to investment by the partners, so investors can invest in a single asset via the neighbourhood CBS or in all of them via Cornerstone Community. But since both partners in the LLP are CBSs that can apply a statutory asset lock, assets owned by the LLP benefit from the same protection.
Cornerstone Culture Ltd is the master franchisor, which owns intellectual property such as logos and develops model legal frameworks, IT systems etc which it licenses to Cornerstone Community and on a sector-by-sector basis to franchisors such as Cornerstone Inns. It also owns equity in the Co-op CIC franchisors (Co-op CIC's) that it helps establish in different sectors e.g. Cornerstone Inns, Stores, Carriers, Cleaners
Both Cornerstone Culture and Cornerstone Community would be expected to take an active part in the wider co-operative movement, building relationships between local communities and the co-operative sector, and engaging with government at local and national level to promote cooperative ideals.
Like the neighbourhood CBSs, profits from Cornerstone Community would be used for social, co-operative or community purposes.
On the operating side, franchisees such as Weaver Valley Co-op pay a fair rent, proportional to turnover (with a minimum), to use the community asset and deliver operations/services aligned to the vision of the CBS members. The LLP receives the rent and distributes it to investors in the LLP in proportion to their investment.
The employee-owned franchisee has a close relationship with Cornerstone Community.
Franchisees based in a particular area take out a franchise with one or more Cornerstone sector franchisors as appropriate, paying around 2% of turnover for access to the Cornerstone rewards scheme, systems, branding, structures and ongoing support; training, mentoring, development of concepts and additional fees for back-office functions such as accounting and payroll.
Franchisors such as Cornerstone Inns fulfil their obligations as CICs by giving a minimum 65% of profits via Gift Aid to Cornerstone Community to further its objects. They hold sector-related trademarks and develop intellectual property that is specific to their sector.
Local producers can subscribe to be members of Cornerstone Community and build mutually beneficial relationships with fellow stakeholders such as Cornerstone franchisees and customers. As a local franchisee grows in size, it may be worth setting up community-owned suppliers such as a brewery or renewable energy project.
Each franchisor operates a buying group that operates on behalf of franchisees and other community businesses to help them compete with big corporates - you do not have to be a franchisee to take advantage of our buying group, as long as you are community-owned. The franchisor uses its buying power and relationships to negotiate prices that are much better than those available to individual pubs etc, and are the same for franchisees and non-franchisees alike.
Whilst our preference is always to occupy community-owned properties, we recognise that is not always possible and the ecosystem was designed to accommodate non-Cornerstone landlords whose procedures can struggle to work with cooperatives. The franchisor negotiates rents and enters property lease agreements with such landlords to get the best deals for the franchisees whilst protecting their worker owners from personal guarantees, and lodge rent bonds.